Preparing for Loss: Finances
Picture this scenario: your husband, who has always taken care of the finances, is failing in health. You appreciate his hard work and "caring" for you; however, the thought of his death is frightening for more reasons than one. You don't know how to write a check, fill the car with gas, or how much is in your bank accounts. How will you pay for his medical care? Will you, possibly a senior, need to get a job after your husband passes away? Does he have life insurance? Investments? In whose name is your home? Automobile? Does he have a power of attorney and is that either you or someone you trust?
Communicate with your partner: Ask about his wishes, and ask about the finances. If your husband is already too ill to discuss these issues, find out who has the information–a child, an accountant,  financial advisor? Some partners may not wish to discuss finances, or the possibility of death. Explain why it is important that you understand. Help him see that by filling you in he is preparing you for such a time as you may be alone again. And you may need to adjust your budget if one or both of you is unable to continue working during the illness.
My friend Joyce says that discussing even "Funeral and burial preferences, no matter how unpleasant … makes it so much easier when the time comes … to whom do you want your personal items to go, i.e. jewelry and family heirlooms. It's surprising how many people in the family will fight over little things, so a hand written note of your wishes could save a lot of hard feelings." (Note: a handwritten note may express your wishes but may not be legally binding. Update wills and trusts with your attorney. Experts suggest you review your powers of attorney, beneficiaries, and other relevant documents every three to five years, when you can confirm or adjust your wishes to account for relevant life changes.)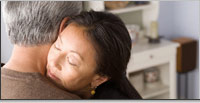 Care Needed: Will your loved one be in the hospital, a care facility, or at home? Can she get the care she needs in your home town or do you need to move to another area for the appropriate treatment? Jerry and I were referred from our home in California to Florida, with the expectation that he would receive a transplant sooner there. With three major transplant centers in Northern California, the need and demand are very high, whereas several factors increased the possibility of receiving a transplant sooner in Florida. Among these were an aggressive donor recruitment program and the lack of a helmet law for motorcyclists. So we moved, expecting to be in Florida three or four months and instead, stayed eight.
Insurance Coverage: Check your insurance documents carefully. In addition to medical costs, it may cover home health care, hospice, or living costs in the event you need to relocate for treatment.  There may be a provision for disability coverage, either in your insurance policy or through the ill partner's employer. We had a $10,000 living allowance which carried us for seven of the eight months we were in Florida.
Billing: The hospital, facility or hospice should bill your insurance first, rather than sending invoices directly to you. Hospitals and insurance companies have negotiated rates for services, generally much lower than the billed amount. I recently had a minor surgery bill for $40,000, for which Medicare paid about $4500. It's helpful if you can deal consistently with one insurance rep, who will know your situation and not require you to explain from the beginning each time you call.
Bank accounts and credit cards:  If you have joint credit cards, you may wish to apply for a card in your name only, then cancel some of those with both names. You may have more difficulty qualifying for a new credit account as a solo wage-earner, so it is helpful to have this in advance.
Financial Documents: Do you have access to all bank accounts, pension information, contacts for insurance, taxes, investments, and employers? Do you know where financial records are kept? How about your spouse's PINs or passwords?  Joyce remembers a pastor who told couples he married, "You are marrying this person for the rest of your life until one of you lays the other in the arms of Jesus".  Loss is  inevitable.
With your husband or wife ill, you may not think clearly to make major decisions. It can be helpful to find someone you trust, whether a counselor, family member, wise friend, or financial consultant, to help you process the issues you face and make wise decisions.
"Lord, when doubts fill my mind, when my heart is in turmoil, quiet me and give me renewed hope and cheer." Psalm 94:19 (NLT)
Additional Resources:
http://www.360financialliteracy.org/Topics/In-Crisis/Medical-Crises-and-Illness/Financial-Planning-When-You-Have-a-Chronic-Illness
https://www.usaa.com/inet/pages/survivorship_facing_terminal_illness?akredirect=true